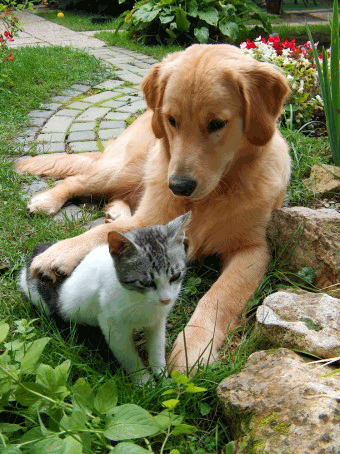 Welcome to Flea Bites. This web site and its writers are dedicated to educating our readers in the identification, control and prevention of fleas and their bites. If you believe that someone in your family or your pets have come in contact with fleas, continue reading. This web site provides information that will assist you the reader, deal with any level of flea infestation.
Fleas are parasitic insects that grow to about 1/8 inch. Unlike other bugs, they cannot fly but they depend on their sturdy long hind legs to jump to about seven inches into the air or on their chosen host.
Fleas commonly reproduce at a high rate and their non-sticky eggs fall into carpets, cushions, floor cracks and pet bedding etc. These parasites are a cause for major concern because they pose a health risk to both animals and humans. The infected fleas serve as vectors that can transmit a number of human diseases through a single bite, this was confirmed when the Plague ravaged humans. It was later discovered that fleas transmitted the disease to rodents which easily transferred it to humans.
Everyone should learn about fleas, pet owner or not. There are diverse ways a flea can infest your home that does not have anything to do with a pet. Continue reading, and you will discover everything you need to know about fleas and their bites, how to differentiate them from other bug bites and administer the suitable treatment.
These are some of the noticeable features of the insects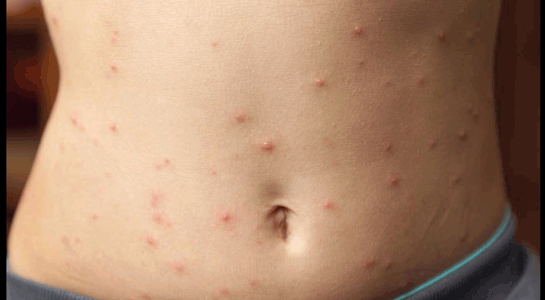 Flea Bites: When a home is infested with fleas, some of them will fall off their host into floors, rugs or carpets, from here they will bite whatever mammal close to them. That's why the bites are usually on the lower legs. It appears like a cluster of small red bumps around an inflamed patch of skin. [Read more…]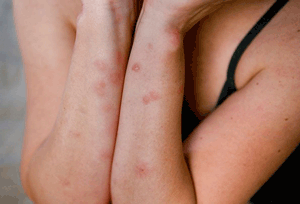 Bed Bugs Bites: The itchy bite is similar to that of mosquito but the area is much more elevated and larger in diameter. Bed bug bites may appears in a straight patterns or form clusters. Bed bug bites may form pus filled blisters requiring medical attention. Bed bugs are commonly found in bedrooms, furniture and clothing. Bites are found on the neck, arms even the face practically anywhere on the body. [Read more…]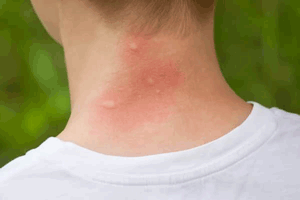 Mosquito Bites: Mosquitoes, often referred to as bloodsuckers, only come out to feed after dark, the itch is negligible except the house completely overrun with mosquitoes then you will see little swollen spots caused by scratching. The primary danger a mosquito poses is the possibility of Anopheles (female mosquito) transmitting malaria to humans. [Read more…]
Quick facts on Flea Bites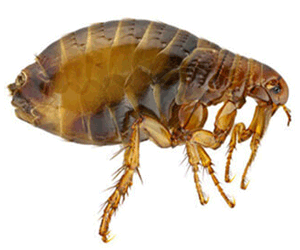 The bite is small with a red spot in the middle. It appears in clusters of three's and four's.
Some animals are allergic to their saliva although it will not affect their health, but it can cause extreme itching and secondary infections.
Bedbug bites usually develop blisters, this will not happen with flea bites.
They can live without a host for over a hundred day and will feed on human blood when there is no suitable animal host available though they cannot live on them as they would on animals.
Dirty houses attract increase flea infestation because the eggs are left unchecked to grow into an adult. [Flea Bite FAQ…]
What do fleas look like?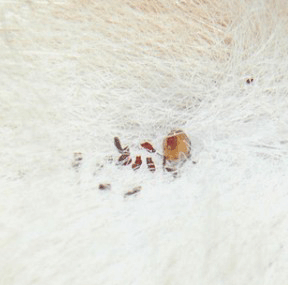 Fleas often get dislodged from their hosts, they fall off into carpets, cushions or the pet bedding from their place on the floor they attack the lower legs – ankle and feet.
The bites looks like a group of tiny scabs, if the house is not treated of fleas the bites start to appear on the chest or back. Most people do not show any allergic reaction to flea bites, so except it develops a secondary infection it might go unnoticed. To see more pictures of fleas? [Read more…]
When do fleas attack people?
There are thousands of flea species but only one out of those has been confirmed to use humans as hosts. This means that the common flea species that infest homes will not jump on humans. However, fleas require a blood meal to survive and so will bite humans occasionally to feed.
Fleas need to feed immediately after they emerge from their cocoon and are not very picky at this stage about choosing between an animal host and human. Practically any mammal will serve its needs that first time.
Symptoms of fleabites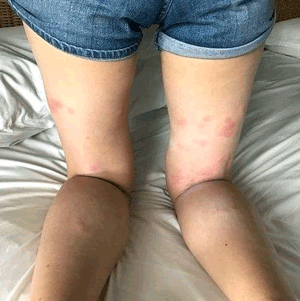 Humans generally do not have allergic reactions to flea bites except in some very rare cases. The bites will itch and constantly scratching that itch will cause it to get swollen. If the person happens to be allergic, the bite will become much more itchy and painful, sometimes forming rashes breaking into hives.
The worst of these could be the development of a secondary infection arising from scratching the spots until they open up, left untreated it gets infected by harmful bacteria.
Complications caused by flea bites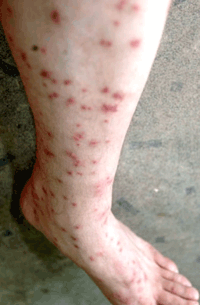 Normally a flea bite can be treated at home with store bought products but when the patient begins to exhibit the following symptoms then it is time to involve a medical doctor.
Swollen face or lips
Nausea
Difficulty in Breathing
These could be secondary infections and allergic reactions, if the spot is infected the person will develop swollen glands, extreme redness and pain. Lastly the spot will start to exude pus.
In other cases infected fleas transmit various diseases to humans through their bite, some of such diseases include; Marine Typhus, Bartonellosis, Black Plague and Flea fever
The spread of parasitic insects (Fleas)
Parasitic insects such as fleas, ticks and mosquitoes cause a range of human diseases and the number of ailments arising from the bites has tripled since 2004 according to the CDC. The bad news about this statistic is the United States is not prepared or equipped to handle this influx of diseases. [Read more…]
Remedies for flea bites
First, flea issues will not stop until every cycle has been eradicated from the home. So if you choose to treat bites alone without addressing the flea itself, it's a lost cause.
However, there are some creams and medications you can apply on the affected area to get some relief from itching. When you scratch the itch, you risk attracting harmful bacteria. [Read more…]
Cortisone
Tea tree oil
Anti-histamine lotion or creams
Calamine lotion`
How to treat your pet
One certain way a flea can infest a home is through your pet, so the pet has to be groomed consistently. Now, if your pet happens to be infested already consult your veterinarian to ascertain if the flea transmitted any diseases to the pet.
After the treatment is done; take the animal away from your house and complete the extermination through the services of a professional, it is definite that your home probably has fleas also.
Simple ways you can get rid of fleas
Clean your home, this entails vacuuming the rugs and carpets with salt. When salt is added the parasites in floors will dry up entirely. Do not leave salt out on the carpet for longer than two days and discard of the dirt bags far from your home.
Machine wash your bed clothes and your pet's bedding with a cup of lemon and transfer to a dryer once you are through.
Foggers and sprays can be used in extreme cases, but vacate the premises after application so as not to inhale the poisonous air. For more great ideas on how to get rid of fleas, click on this link to read more. [Read more…]
Kill Fleas With Salt?
Most people prefer natural methods to chemicals any day. The products for treating flea infestations are designed with chemicals which can be toxic to both humans and animals. [Read more…]
Questions about fleas and flea bites
Fleas are parasites that do not just exist to be a constant cause of irritation to your pet, No. They also jump on humans when there are no animals available. Flea bites are not to be confused with mosquito bites; they are a lot more irritating and itchy. [Read more..]